General information
GENERAL CHARACTERISTICS OF THE REGION

Omsk region is located in the center

of the vast continent in the South part

of the West Siberian plain.

The territory of Omsk region is

141,1 thd.sq.km
The territory of the region is 141,1 thousand square kilometers (0,8% of the territory of the Russian Federation), 47,6 per cent of which is agricultural land, 33,1% – forests, 16,4% – water bodies, including swamps, 2,9% - other lands. The territory of Omsk region includes 6 towns, 32 districts, 21 working settlements, 1477 rural settlements. Omsk region stretches from North to South for more than 600 km, from West to East – 300 km. Omsk region borders with Tyumen region in the West and North, with Tomsk and Novosibirsk regions in the East and with the Republic of Kazakhstan in the South. The distance from Omsk city to the city of Moscow is 2555 km. Omsk Irtysh riverside territory is located in the fifth time zone, time difference with Moscow is 3 hours.

Omsk region has a well-developed network of transport communications. Along the 55th parallel of North latitude in the region the Trans-Siberian Railway is running, connecting the Western and Eastern parts of the country. Also the territory of the region is crossed by highways connecting North Russia with Kazakhstan and Central Asian countries.
Transport network of Omsk region is:

751 km

of railways lines

1474 km

of inner waterways

25,04 thd.km

of auto-roads
The distance from Omsk to Moscow – 2555 km.
1904,2 thousand people (as of 1 January 2021) live in Omsk region (Omsk city, 32 districts).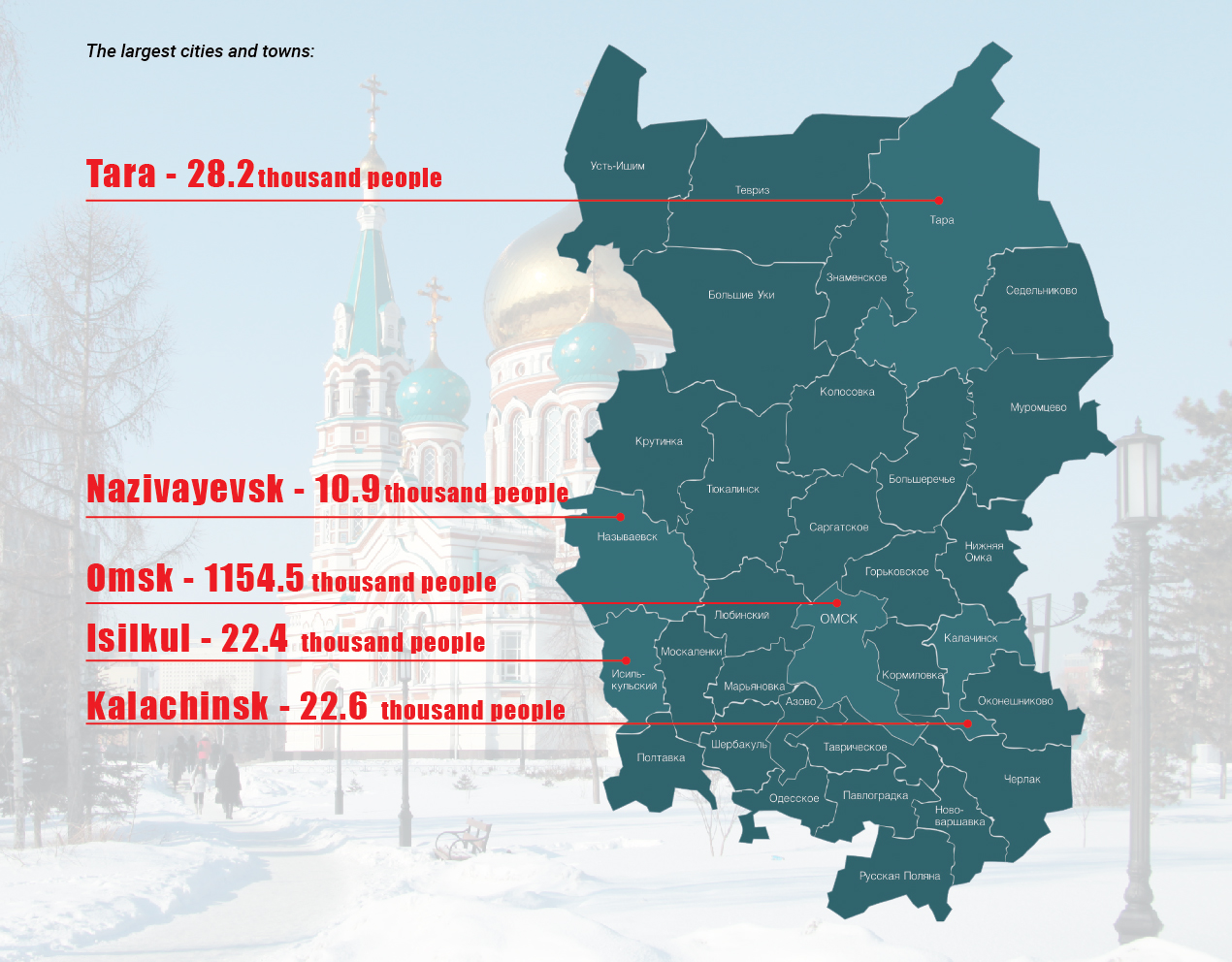 Omsk region is characterized by high concentration of population in the city with a million plus population, which opens up opportunities for the development of consumer market and reduces the costs of infrastructure maintenance.
The ratio of urban and rural residents is 72.9% and 27.1% respectively. The average density of Omsk region population is 13,49 men per 1 sq.km.
National composition of the population of Omsk Irtysh area is represented with more than 122 nationalities and 12 ethnic groups.

The region has the reserves of:
oil
gas
turf
ore sands of zirconium and titanium,
marsh marl
sapropel
mineral mixtures
therapeutic mud
The main natural resources of Omsk region are soil resources, enabling the development of large grain farming and all types of livestock farming. The region is situated in several natural complexes: taiga, small-leaved forests, northern and southern forest-steppes and steppes. In the forest area is dominated with birch and aspen, softwood – pine, fir, spruce and cedar. The area has more than 4 thousand rivers and 16 thousand lakes.
Large lakes of Omsk region:
Saltaim (146 sq.km)
Tenis (118 sq.km)
Ebeity (96 sq.km)
Ik (71 sq.km)
Over ten water bodies in the region have the status of natural monuments, among them the lakes Uldzhay and Ebeity – relict saline lakes with halophytes and large reserves of therapeutic sulfide mud.
Omsk region climate is continental; the average January temperature is -14.9 C, in July +18 C.